Is David Cameron's kid-glove treatment of the City remotely justified, when it neither pays its way nor lends effectively?
Aditya Chakrabortty,  guardian.co.uk, Dec 12, 2011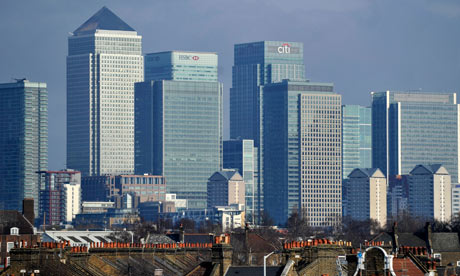 The City, London . . . Britain's finance sector contributes less to the country than manufacturing. Photograph: Andy Rain/EPA
The national interest. It's a phrase we've heard a lot recently. David Cameron promised to defend it before flying off last week to Brussels. Eurosceptic backbenchers urged him to fight for it. And when the summit turned into a trial separation, and the prime minister walked out at 4am, the rightwing newspapers took up the refrain: he was fighting for Britain. In the eye-burningly early hours of Friday morning, exhausted and at a loss to explain a row he plainly hadn't expected, Cameron tried again: "I had to pursue very doggedly what was in the British national interest."
As political justifications go, the national interest is an oddly ceremonial one. Like the dusty liqueur uncapped for a family gathering, MPs bring it out only for the big occasions. And when they do, what they mean is: forget all the usual fluff about ethics and ideas; this is important.